The GSBI will make better use of the knowledge that we have on soil biodiversity and ecosystem services rather than starting new research.
Provide supporting examples to policy makers of possible solutions in which soil biodiversity maintenance and improvement is integral to make a difference for human-well being.
Exchange of knowledge and questions from users and stakeholders at an open science conference in order to set research and policy agendas.
Provide a central forum for input to IPBES working groups on soil biodiversity and ecosystem services. Identify a framework of agreed direct links between soil biodiversity and ecosystem services.
Provide a central focus to the Global Soil Partnership for incorporating scientific knowledge on soil biodiversity and ecosystem services.
Sponsor follow-up workshops to identify case studies where integrating soil biodiversity knowledge will improve sustainable management of soils and ecosystem services. The results will help address the Global Soil Partnership mission of 'sustainable management of soil resources for food security and climate change adaptation and mitigation'.
To sponsor working groups to assess and integrate results across disciplines that can be used to a) develop scenarios of how climate change or desertification will alter services in relation to (land) management types and types of biomes, and b) identify gaps needed for qualifying/quantifying global soil biodiversity and relating it to ecosystem models.
Background
WHAT IS SOIL BIODIVERSITY?
Millions of microbial and animal species live and make up soils, from bacteria and fungi to mites, beetles and earthworms.  Soil biodiversity is the total community from genes to species, and varies depending on the environment.  The immense diversity in soil allows for a great variety of ecosystem services that benefit the species that inhabit it, the species (including us) that use it, and its surrounding environment. 
BENEFITS
Environmental Benefits
Soil biota support numerous ecosystem processes, the functions underpinning ecosystem productivity, biodiversity and health.  Soil functions include: primary productivity, carbon and nutrient cycling, erosion control, the maintenance of a stable soil structure, and helping to mitigate climate change.  Soil biodiversity ensures a healthy soil system that is necessary for the sustainable functioning of natural and managed lands.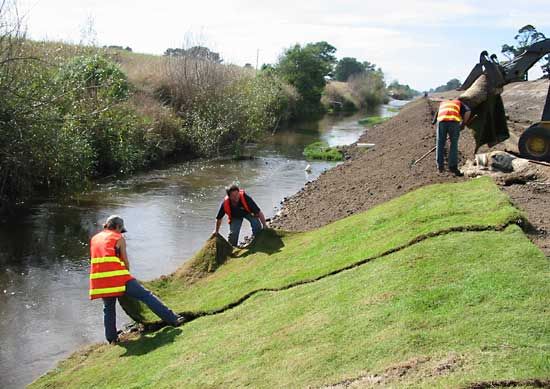 Left: Workers lay down sod to aid in erosion control.  Middle: Soil is a major component in carbon and nutrient cycling.  Right: Soil biodiversity helps to maintain the overall ecosystem biodiversity and health.
Human Benefits
The functions of soil organisms underpin the delivery of major ecosystem services that are critical to the well being of human societies, such as water filtration and storage, food production, flood and erosion control, disease control, biodiversity conservation and climate regulation.  Soil also has a presence in cultural aspects of the human world, providing recreation in parks and sports facilities, education with its many resources, and a link to heritage with its history in archaeology.
Left: A biker utilize soil for recreational purposes.  Right: Soil allows us to produce food.
THE PROBLEM
Global Change Factors
Soil biodiversity is susceptible to the global change factors our Earth faces, including nitrogen deposition, land use change, climate change and other anthropogenic disturbances.  These sorts of disturbances can change and degrade the soil community, overall altering the function and critical services it provides for human well-being.
Communication and Outreach
Adding to the problem, the extensive knowledge of soil biodiversity, from its role in ecosystem services to how it will adjust with global changes, has yet to be integrated into land management and policy plans.  It is difficult to attract attention to and publicize the important role of soil biodiversity.  
Left: Increasing soil degradation is the result of multiple global change factors, as mentioned above.
THE SOLUTION
As global change factors continue to influence our ecosystems we must identify ways to manage the soil community. 
The GSBI's Role
The GSBI was designed to create a global collaboration of scientists, all with the goals of informing the public, promoting this information into environmental policy, and overall creating a platform for the current and future sustainability of soils.
Connect with us
Currently, organizations and individuals that will support this initiative are being approached with the hopes that it may one day be incorporated into organizations involved in soil biodiversity and ecosystem services. If you are interested in becoming connected with the initiative, please submit an inquiry.
Managing the Planet: Colorado State University Walking the Walk from SoGES Colorado State University on Vimeo.